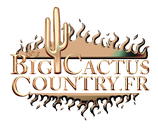 THE BCC: PRESENTATION
The Big Cactus Country Radio Show, so many things to tell about...
But let's start by the beginning: what is the BCC show? A weekly program about Country Music news presented by Johnny Da Piedade and Alison (« The News from Nashville »)!
 The BCC Radio Show is broadcasted over 140 radios FM and Web Radios in France, Belgium, Switzerland, Reunion Island & Quebec! The Radio Show is partner of the biggest Country festivals in France.
3 radios, Big Cactus Country, HD Diner Radio & BCC Rock, are also available, offering a music types diversity: Country Music, Rockabilly or Classic Rock !
THE FRIENDSHIP
But the Big Cactus Country Radio Show is more than just a radio. First, it's the best radio in France and probably in Europe. But there's a friendship story behind that...
Manuel started listening to Country Music in 1994 thanks to Johnny. He was the musical animator in Disney Village, especially at Billy Bob's. Thanks to Johnny, Manuel discovered a lot of artists and learnt a lot of thing about Country Music during his discussions with him. And then, after having lost sight during several years, they met back on the great Festival Country Rendez-Vous where Manuel performed with the Roving Seats in 2014.
The two men re-established the bonds of friendship and started discussing a lot about music, projects. Johnny promoted several times The Roving Seats music, and The LCA's, on the BCC Radio Show!!
Manuel considers Johnny as one of the 3 guys who made him discover the Country Music (the 2 other ones are George Lang, WRTL Country, and Carlton Moody, playing with The Moody Brothers at Billy Bob's in the early's 90's).